Course details
Premium banquet at special price! 2H with all you can drink "rare site course" 7300 yen ⇒ 6500 yen (excluding tax) at a drinking party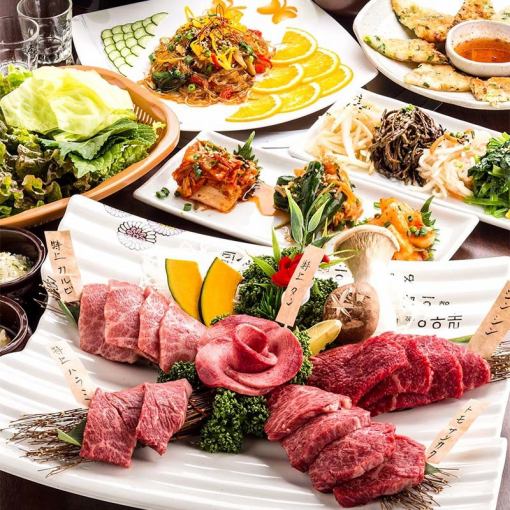 By using a coupon6500 yen
Tax excluded price * Amount after coupon discount
All-you-can-drink available

It is content of full drinks.Please inquire details.
Available days for reservation

Monday - Sunday - Public holidays - Holidays
For a limited time only one kilo to 3 kilos with a single cow will serve a rare site at a special banquet.Japan's finest class Kuroge Wagyu cattle A5 ranked carefully selected rare parts will be accepted only for reservations from 4 to 20 people (Please note that reservations on the day may not be available depending on the number of guests, so please be sure to confirm by telephone I will.)
Course menu
【1】 Assorted Kimuchi
【2】 Baekje special salad
【3】 Seafood Negishidimi
【4】 Lots of vegetables Chapche
【5】 Kuroge Wagyu Beef Broiled Sashimi (with Grated Ponzu)
【6】 raw tangerine grilled salt
【7】 Grilled Mochika Digicaribi
【8】 Grilled scallops with scallops
【9】 Seasonal vegetable grill
【10】 Special selection 5 pcs high (selectable sour taste and salty taste)
Kuroge Wagyu beef A 5 rank from the rank of 5 rich luxurious rare parts centering on the popular red meat also popular among women!
Five items from chestnut, kaami tree, Tomo, Sasami, Zabuton, Misuji, Shinsin, Top Loose, Upper Calvi, Special Karbi
Since contents vary depending on purchase, leave the combination to the store.
【11】 meal (koopa · cold noodles)
【12】 dessert
※ 4 people ~ 20 people / reservation required.
※ For dishes only, we offer at 5300 yen ⇒ 4300 yen (excluding tax).
All-you-can-drink menu
·beer
· The premium · molts (medium bottle)
· Korean sake / Shochu
· Mohsuki / Chowmucho Rom / Death / Chamisul / Wanko (wheat) / Nanko (Potato) / Makgeolis / Blackbean Makgeolli
·sour
· Ginger sour / Lawn sour white sour (Lower alcohol sour) / Lemon sour / Grapefruit sour / Sewkerser sour / Plum wine sour / Apuzu sour / apple sour / lyche sour / acerola sour / mango sour / kiwi sour / chuhai / oolong hi / jasmine high
·whiskey
· Square bottle / angular cola high ball / angular ginger highball
·wine
·Red and white
·Sake
· Kikumasa Kiku
·Soft drink
· Oolong tea / Jasmine tea / Maize beard tea / Cola / Gingeraele / Orange juice / Grape juice
·Plum wine
· Minami Takashi plum wine from Kishu
Coupons that can be used with this course
2018/04/01 update