Course details
【2 h with unlimited drinks】 Main dish for banquet 11 bargain course usually 5500 yen ⇒ coupon price 5000 yen (excluding tax) banquet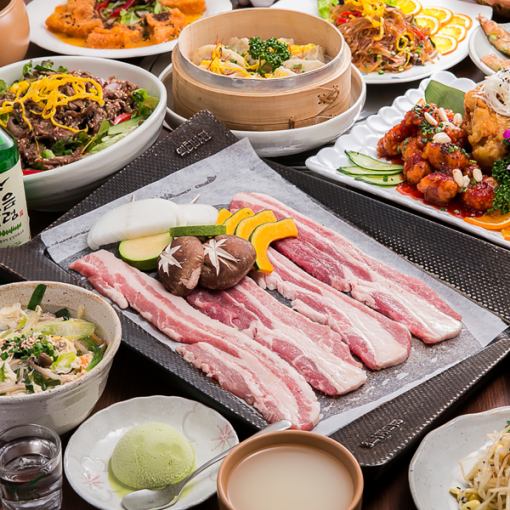 By using a coupon5000 Yen
Tax excluded ※ Amount after coupon use
All-you-can-drink available

It is content of full drinks.Please inquire details.
Reservation deadline

Until 15 o'clock on the desired date of visit
Available days for reservation

Monday - Sunday - Public holidays - Holidays
For those who are unsatisfactory in normal course ... Plan with drinks all-you-can-eat consisting of 11 healthy, body-friendly dishes ♪
Course menu
【1】 Chinese cabbage kimchi
【2】 Namuru green leaf
【3】 bean sprouts
【4】 Bulgogi salad
【5】 seafood Negishidimi
【6】 Vegetable set or fire chicken
【7】 Japanese beef sashimi
【8】 Chapche
【9】 Daily special dish
※ Those who ordered Samgyeopsal will be "vegetable set" instead of "chicken of fire".
【10】 Main dish you can choose 4 types Please choose from the following.
· Samgyeopsal · Camjatan Pot · Bulgogi Pot · Yakiniki Platter
【11】 Kuppa
※ Course usage is on request
※ 4 people / reservation required
* Extension is possible with 540 yen for 30 minutes.However, it may not be accepted depending on the congestion situation.
All-you-can-drink menu
·beer
· The premium · molts (medium bottle)
· Shochu
· Mogetsu / Chowmucho Rom / Death / Chamisul / Wanko (wheat) / Nanko (Potato)
·sour
· Ginger sour / Lawn sour white sour (Lower alcohol sour) / Lemon sour / Grapefruit sour / Sewkerser sour / Plum wine sour / Apuzu sour / apple sour / lyche sour / acerola sour / mango sour / kiwi sour / chuhai / oolong hi / jasmine high
·whiskey
· Square bottle / angular cola high ball / angular ginger highball
·wine
·Red and white
·Sake
· Kikumasa Kiku
·Soft drink
· Oolong tea / Jasmine tea / Maize beard tea / Cola / Gingeraele / Orange juice / Grape juice
·Plum wine
· Minami Takashi plum wine from Kishu
· Makgeoli
· Makgeolis / Black bean makgeoli
Coupons that can be used with this course
2018/04/01 update